Is It Time to Seek Pediatric Care? 5 Pediatric Emergency Symptoms Not To Ignore
Category: Blog
Posted On:
As a parent, you know how important it is to keep an eye on your child's health and wellness. But sometimes it's tough to tell when something is wrong and when it's just a normal part of childhood development. Knowing pediatric symptoms that indicate a severe health concern can help you decide when to seek emergency care.
Here are five pediatric emergency symptoms that it's time to seek medical care for your child:
1. Persistent High Fever
A fever is a common symptom of many childhood illnesses, but a persistently high fever can indicate something more serious. If your child has a 100.4F fever that lasts for more than three days or a fever that spikes suddenly and then comes down just as quickly, it's time to seek medical care.
2. Respiratory Distress
If your child's breathing is labored or rapid, it's time to seek medical care. This is especially true if they also exhibit other symptoms like a fever or fatigue.
Respiratory distress can indicate several severe health conditions, so it's essential to have your child seen by a professional right away.
Take their pulse if you're unsure whether your child is experiencing respiratory distress. A regular pulse for a child (about 5 to 12 years old) at rest should be between 70 and 120 beats per minute. If your child's pulse is faster than this or if they are having difficulty breathing, it's time to call the doctor.
3. Deep Cut or Laceration
If your child has a deep cut or laceration, it's essential to seek medical attention immediately. Even if the bleeding has stopped, a deep cut can require stitches to close the wound and prevent infection.
If you're unsure whether a cut is superficial or deep, look for the following signs:
The cut extends more than ½ inch.
The cut is gushing blood.
The cut is located on the face, hands or feet.
The cut was caused by a dirty object.
4. A Fall
Get medical care immediately if your child falls or sustains a similar injury. That's because a fall can cause a concussion or other serious injuries.
In general, any time your child has a fall it's a good idea to practice caution and get them checked by a medical professional.
5. Allergic Reaction
If your child has never had an allergic reaction and suddenly starts exhibiting symptoms, it's time to seek medical care. Common pediatric symptoms of an allergic reaction include swelling, difficulty breathing, hives and dizziness.
Anaphylaxis is a severe and potentially life-threatening allergic reaction that requires immediate medical attention.
Call 911 right away if your child is exhibiting any of the following symptoms:
Swelling of the face, lips or throat.
Difficulty breathing.
Dizziness or lightheadedness.
Nausea or vomiting.
Diarrhea.
Anaphylactic shock (collapsing, pale and clammy skin).
These are just a few samples of pediatric emergency symptoms. If you have concerns about your children's health, trust your gut. If something doesn't seem right, it probably isn't.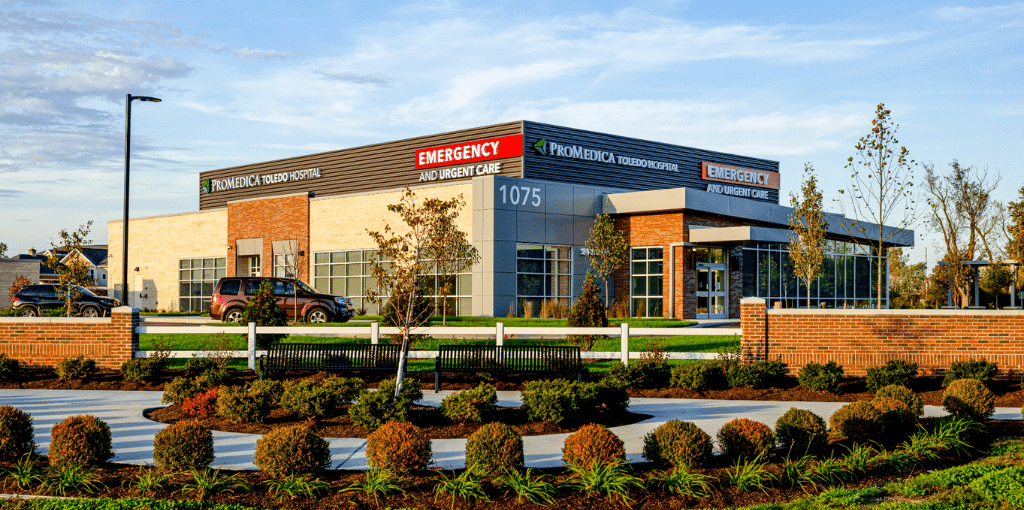 Visit ProMedica Toledo Hospital Emergency and Urgent Care for Pediatric Emergency Symptoms
ProMedica Toledo Hospital Emergency and Urgent Care provides patients with quality care and services. Staff are ER-trained to determine patient conditions, and patients only pay for the level of service they receive—either ER or urgent care. The emergency department is open 24/7 and the urgent care clinic is open from 7 a.m. to 9 p.m. daily. You don't need an appointment; all walk-ins are welcome.
As part of ProMedica, our emergency and urgent care is also connected to ProMedica Russel J. Ebeid Children's Hospital, the region's largest Level II pediatric trauma center; granting you direct, fast access to high-quality trauma care if necessary.
ProMedica Toledo Hospital Emergency and Urgent Care is located at 1075 Medical Center Parkway, Maumee, OH 43537.