Symptoms of Strep Throat and How To Treat It
Category: Blog
Posted On:
Strep throat is a condition that can cause severe pain in your throat. This infection can also cause your tonsils to become inflamed and painful. You may begin to feel pain very quickly, and a medical professional can diagnose strep throat.
Many other illnesses can cause an itchy or painful feeling in the throat. Although strep is more common in children, adults can also get a strep infection. If you think that you may have a strep throat infection, there is a quick test your doctor can do.
Common Symptoms of Strep Throat
People experience several symptoms when they have a strep throat infection. These symptoms include the following:
Fever or headache.
Painful swallowing.
Swollen tonsils that look red or may also have white patches or streaks.
Small red spots on the roof of the mouth.
Throat pain that can build up quickly.
Some people may experience these symptoms and feel abdominal pain or nausea. Children, especially, may also vomit or develop a rash on the body.
What Causes Strep Throat?
Many kinds of infections can cause a sore throat. But strep is a specific kind of throat infection. A highly contagious bacteria called group A Streptococcus causes strep throat. It is easy to get strep throat by touching infected surfaces or someone with it. You can also spread strep throat through respiratory droplets.
It is rare, but getting a strep infection from contaminated food is possible. Once infected, it can take two to five days to notice symptoms. You are more likely to infect other people if you have strep throat symptoms; but you don't have to have symptoms to infect other people with strep.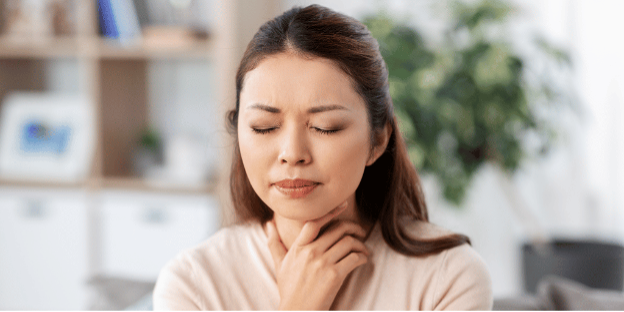 How To Diagnose Strep Throat
You may have many of the signs of strep throat, but other conditions can cause similar symptoms. A healthcare provider can do a quick test to determine if you have strep bacteria present. Your medical provider will use a long, specialized cotton swab to gather material for a throat culture or to do a rapid test. Usually, the rapid test is accurate. But sometimes, the doctor will send your sample to a lab to confirm the diagnosis.
How To Treat Strep Throat
If your healthcare provider has diagnosed you with strep throat, you may be prescribed antibiotics. Usually, people start to feel better within 24-48 hours after starting antibiotics. However, the symptoms of strep can be painful and uncomfortable. You can ease your pain and discomfort at home by:
Drinking more fluids.
Drinking warm herbal tea or nutritious broth.
Eating raw honey (except for babies under the age of one).
Gargling with salt water.
It's also important to get plenty of rest and eat foods with a lot of vitamin C to support your immune system. You can try these techniques along with taking your prescribed antibiotics. You may not get well if you have strep throat and do not take antibiotics. Untreated strep throat can get worse and lead to a more severe illness.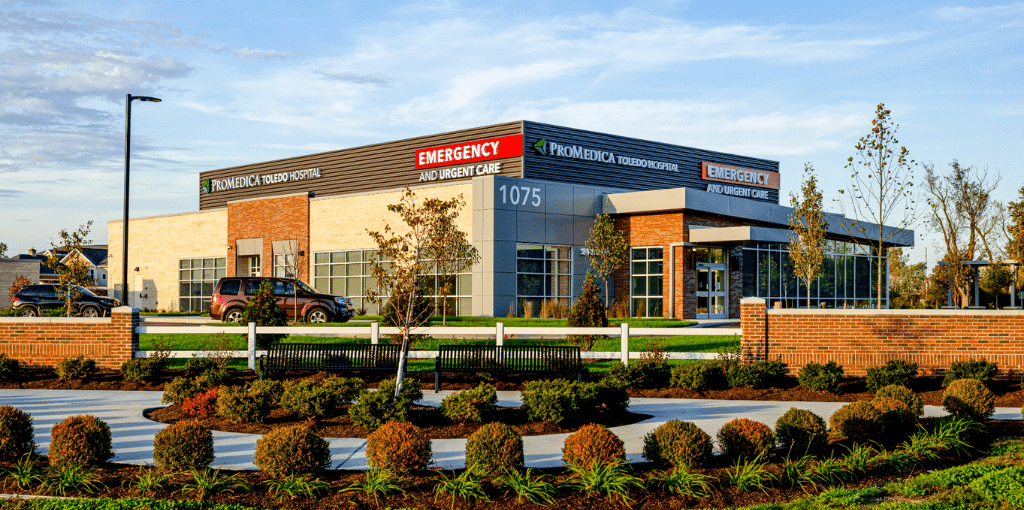 Get the Care You Need at ProMedica Toledo Hospital Emergency and Urgent Care
Strep throat can be extremely painful and prevent you from doing your daily activities. If you think you might have a strep throat infection, don't wait it out. ProMedica Toledo Hospital Emergency and Urgent Care provides patients with quality care and services. Staff are ER-trained to determine patient conditions, and patients only pay for the level of service they receive - either ER or urgent care. The emergency department is open 24/7 and the urgent care clinic is open from 7 a.m. to 9 p.m. daily. You don't need an appointment. All walk-ins are welcome.
ProMedica Toledo Hospital Emergency and Urgent Care is located at 1075 Medical Center Parkway, Maumee, OH 43537.